Any concerns about tension in a question-and-answer panel dedicated to Heat, a movie in which men prefer to let their machine guns talk about their feelings for them, were quickly set aside last night at the dazzling United Palace Theater in Washington Heights in Manhattan.
The Tribeca Film Festival An event dedicated to the 1995 classic crime thriller from Michael Mann – who was unable to attend due to a positive Covid test, but made sure to record a video message from the Italian group for the upcoming Enzo Ferrari movie, wistfully recalling his premiere all those years before lunch at Broadway Diner – began with a standing ovation. Adult by talent pooled: Producer Art Linson, as well as co-stars Robert De Niro and Al Pacino, two young men who couldn't get a cup of coffee in New York without a round of applause. Things got a bit tumultuous from there.
The moderator and number one cheerleader at Man Belge Iberi deftly held a pre-screening commentary session that threatened to walk off the rails at any moment, among the raucous audience and challenging characters on stage. In terms of looks, De Niro kept his lips tight between his clipped responses, while Linson and Pacino (shining in his standard-issue black scarf) were clearly enjoying the energy they received from the audience the most. 90 seconds can't go by without a comedian shouting on the porch with a quote from the movie, "I love you!" To either star, or when inquiring about young actors who could handle driving the Heat today, cry "Harry Styles!" Met with hearty boos. Pacino's response that Timothée Chalamet could confront insane LAPD Lieutenant Vincent Hannah went viral on Twitter in a matter of seconds, and only heightened the excitement in the room. On two separate occasions, Pacino declared, "These guys want to see the movie!" And I tried to cut short the conversation, only for Ibery to point to the little clock that required them to keep going "for another 20 minutes, Al."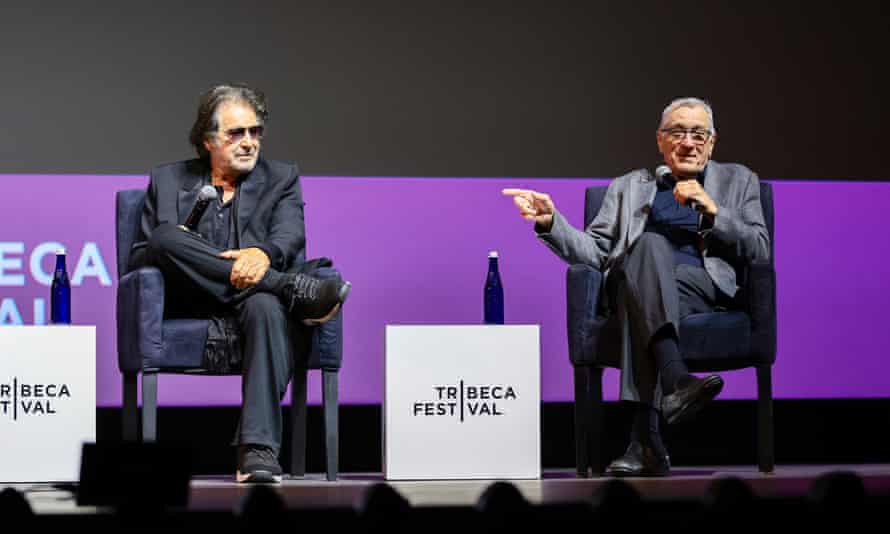 Perhaps all the mild frenzy was the best, relaxing some of the rocky actors and leading to frank conversation that found some fresh ideas in a boring text. Pacino first learned that Hank Azaria, his scene partner in the timeless interrogation "Got a Big Ass," had no advance notice of where their dialogue would go. "How about this," Pacino said last night. "I I didn't know I would do that! Pacino showed real affection for the capricious and semi-delicate Hana, reflecting that he "did weird things, and really liked her", and that the character "got a little help too," teasing the Coke bump to the delight of the crowd. He threw a pearl Wisdom about the chaotic and confusing nature of shootings between a policeman and a burglar like the recent shootout that shut down much of downtown Los Angeles: "Michael Lee said, in private, that police in Los Angeles were trained to attack, and they weren't used to playing defense . Big criminals and professionals always commit crimes."
Despite his withdrawal, De Niro wasn't far off, mostly preoccupied with the chance to reminisce with a lifelong friend. While discussing their preparation, including live-fire firearm training, he was deadlocked: "I robbed a few banks." The most enjoyable evening saw Pacino speak of his enthusiasm for the show, the Paramount Plus series that dramatizes the making of The Godfather. He turned around and asked De Niro what he thought of it, pointing to the actor at perfect timing "I haven't seen him." Pacino was extravagant and affectionate at the thought of a dinner meeting between Hana and enemy Neil McCauley, the first time the two actors had ever shared a screen. "You can do anything with Bob," he said. "He will hear it, interact with it, relate to it. He is always there, on guard."
Linson said it best when he said: "If you read [the script]-The characters look like Bob and Al! They were the main attraction they deserved for a night rich in male camaraderie, as was fitting given the quiet romance that Heat had between its rival threads. The absent member of this group, director Michael Mann, still gets some good moments from those who represent him. We learned that Mann isolated his team on learning that there was a bomb threat at LAX shortly before the shooting there, and Linson remembered a perturbed man telling his studio suit yelling at him as he worked so slowly: slower. And perhaps that could explain the home's beer-hall atmosphere as well, a natural side effect for fans of a tragedy over the impossible divisions separating close brothers. If nothing else, the atmosphere proved that there was a personal and emotional connection between Heat and his disciples. The crowd greeted The stars as if they've all known each other forever.After spending a lifetime obsessing over couple movies, everyone just wanted to relax and talk about the good old days with their friends Bob and Al.