30 – Paul McCartney – The Secret Friend (1980)
McCartney's fondness for musical avant-garde dates back to the mid-1960s (before John Lennon, as he was often keen to point out). You didn't hear much from leftfield Macca in the '70s, but he reappeared in Secret Friend, an excerpt from McCartney II that looks, unusually, like a bare, ageless techno Balearic, 10 years ago.
29 – Wings – Listen to what the man said (1975)
You can see why the cheerful, playful philosophy of Sopranos listen to what Happy Man might have impressed him in Britain during the three days of the week, but – as is often the case with McCartney in the 1970s – you can't help but wonder in amazement. The apparent melody in the melody breezy and loud.
28 – Noor Al-Zein – Good Night – (1979).
Macca wasn't immune to disco temptation—Goodnight Tonight featured in an extended 12-inch version—though he characteristically adapted the genre to his own ends, rather than the other way around, mixing flamenco guitar, a half-sleepy wizard. The speed of the melody and the abstract use of a vocoder. And playing the bass is wonderful.
27 – Noor Al-Zein – (1979).
Wings got their way: with an unfinished and largely unpopular album. But Back To the Egg featured Arrow Through Me, a rich and intriguing serpent who beats McCartney in the late 1970s in soft-rock setting. She was recently rescued from an undeserved obscurity, first by Erykah Badu, who sampled it on Gone Baby, Don't Be Long, and Harry Styles, who sang much in praise of her.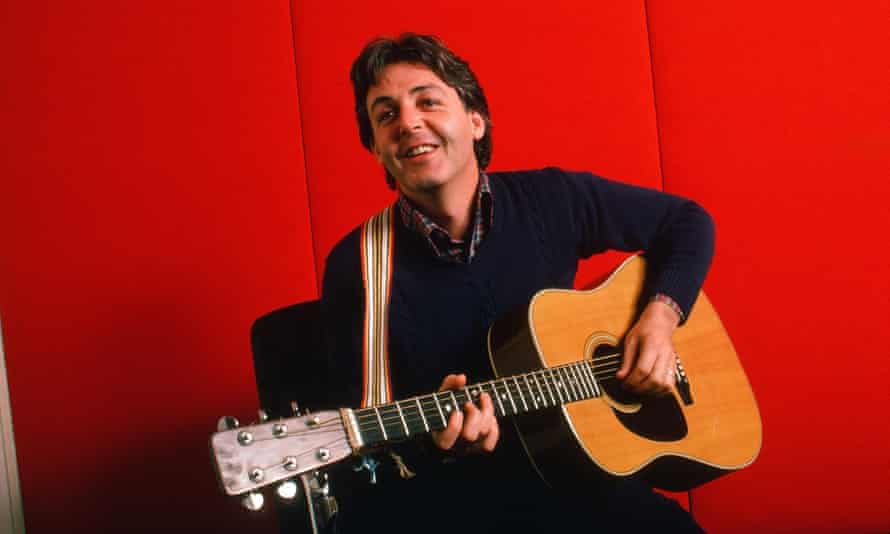 26. Paul McCartney – Deep Deep Feeling (2021)
There is a sense that McCartney's search for one last song has sometimes made him relate to his penchant for experimentation. But she did find a full flow of highlights from McCartney 3 last year: the melody is distinctively polished, but it flows through the tempo changes, long tracks, valetto singing, and vocals.
25 – Nuri – Nimr – Nimr (1975)
In recent years, McCartney has returned to Letting Go onstage, for good reason: the relative volatility upon release, unfairly overlooked, swampy mid-tempo performance of the Wings – they seem to be playing in a gigantic cloud of weed smoke – offset by the jubilant brightness of the brass arrangement .
24. Paul McCartney – temporary secretary (1980)
Elusive vocals, frantic chatter, and eye-catching hook: McCartney's voice unrelated to commercial concerns, interim secretary perfectly explains why McCartney II was attacked by baffled critics upon his release – one review noted that its author had "shamed himself" – and a room reassessed Her electronic sleep is radically in the post-acid world of the home.
23 – Wings – My Love (1973)
On the one hand, with its lush chords and fun MOR production, My Love likely falls right into the category of songs that Lennon dubbed "Paul's granny music." On the other hand, he's so grandiose, his lyrical story is so honest in the eyes of wide eyes, that there's just something irresistible about him.
22. Paul McCartney – Early Days (2013)
McCartney's voice has progressed significantly in recent years. Rather than ignoring this fact, Early Days used it. Not only is this a great song – though it is – there is something so powerful about hearing a man in his seventies audibly remember, not always fondly, about his early career.
21. Wings – With A Little Luck 1978
Recorded by a millionaire on a luxury yacht in the Virgin Islands, Wings's London Town was the soft-rock album, perhaps not the wisest move in the heyday of punk; It wasn't very good either. But with a little luck it's a nice and poignant paraphrase of maca's positivity.
20. Paul McCartney – What do you do? (1982)
A hidden gem of the Tug of War game, what are you doing? It is all that McCartney/Stevie Wonder is more famous, the Ebony and Ivory collaboration is not. Instead of a Gloopy schmaltz for their big song, it's wired and funky enough to equal Wonder's 70s albums: big praise, but it's a great song.
19.Paul McCartney – My Valentine (2012)
McCartney had indulged in pre-pop rock 'n' roll before, on the Beatles' Honey Pie, and Thingumybob asked Black Dyke Mills and Wings' Baby, but his self-written contribution to Kisses on the Bottom, the Standards album, was Particularly charming: a moody song that could have come straight from the great American songbook.
18. Paul and Linda McCartney – Uncle Albert / Admiral Halsey (1971)
McCartney was clearly captivated by the versatility on the second side of Abby's Way: he kept returning to her piecemeal approach through the early 1970s. Uncle Albert/Admiral Halsey was the ramshackle look of the Ram album, leaping from foggy and dream-like to cheerful vocals to a fake vocal break. #1 in the US, incredibly.
17. Paul McCartney & Elvis Costello – My Brave Face (original show) (1989)
The version of My Brave Face you need to hear isn't the high-shine single, but the tougher, tougher show, where the Beatley grandeur of the song is most evident: McCartney and Costello hitting acoustic guitars and chimes, the latter's acid sounding a perfect, somewhat Lennon-esque, frustration.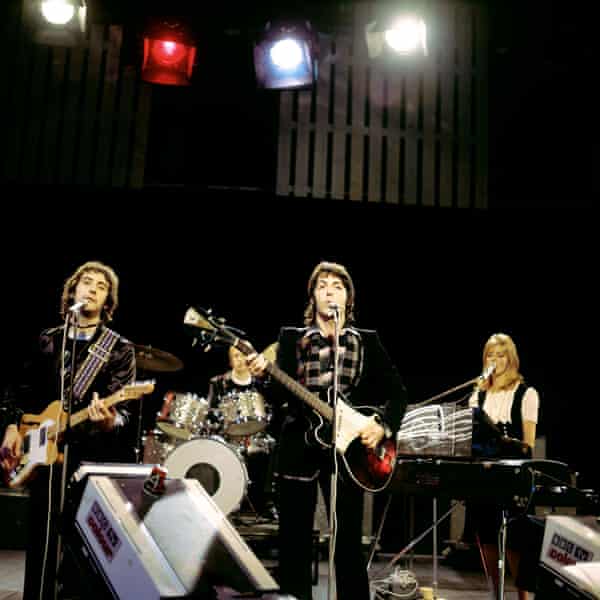 16. Wings – Junior Farm (1974)
Tucked in a delightfully sweet spot between rock swaying and pop cleverness, the Junior ranch also features a rare moment of Macca politics buried amid Dylan-esque words, which cheerfully refers to a round of whip for a concrete design "bag of cement." Richard Nixon shoes.
15. Wings – Little Dragonfly (1973)
Hidden among the uneven contents of Wings' second album Red Rose Speedway was one of McCartney's most beautiful tunes ever. Recorded during the Ram sessions and dedicated to the soundtrack to the long-planned Rupert Bear McCartney cartoon, Little Lamb Dragonfly is cushiony, incomprehensibly animated, and utterly adorable.
14. Paul McCartney – No More Lonely Nights (1984)
It says so much about Macca's modestly critical reputation—and the atrocity of the film it came from, Give My Greetings to Broad Street—that No Lonely Nights has not been lauded as a masterpiece. A big hit you've never heard of nowadays, it's so smooth, but it's a wow piece of songwriting.
13. Paul and Linda McCartney – Another Day (1971)
One of the striking things about Paul McCartney's work in the late 1960s and early 1970s is the empathy that portrays ordinary people whom the counterculture tends to ridicule as a hopeless square. Here's another day: parodied on his release for its tender portrayal of a woman's monotonous existence, it's poignant, caring, and beautifully written.
12. Paul McCartney – Little Willow (1997)
After decades of unfair criticism often leveled McCartney's way, Flaming Pie was launched at the height of Britpop's Beatlemania, and if anything, it's been a little overrated. But there's nothing to dislike about Little Willow's heart-stringing reaction, but the honest and meticulously arranged response to the death of Ringo Starr's first wife, Maureen.
11. Paul McCartney – Junk (1970)
Many of the Beatles' songs ended up on McCartney's early solo albums. Sometimes you can see why other Fabs would reject them – a floundering teddy boy – but Junk is the wonderful "emotional camp" described in one of his words. Go by the Beatles and Abbey Road, it's magical: unassuming, quirky and beautiful yet somewhat grotesque.
10. Paul McCartney – Here Today (1982)
A perfectly prepared reaction to Lennon's murder. The lyrics admit that Lennon would have mocked their sentimentality and sounded poignant as something from the mid-'60s, brother of acoustic guitar and chords to yesterday. A photo of the manuscript reveals a tangible change: the line "I ease my pain" was crossed out, replaced by "I love you."
9. Paul McCartney – Coming (album version) (1980)
Lennon was rightly impressed by the new, narrow wave disco sound, but the celebrity responded to hearing it on the radio with the immortal exclamation: "Damn a pig—it's pee!" Lennon preferred the home recording to McCartney II over the live version that was released as a single; He was right about that, too.
8. Paul McCartney – Jenny Wren (2005)
McCartney admitted, in writing, that "in conversation with" the Beatles' Blackbeard, Jenny Wren, like much of a backyard mess and creativity, was vocal and powerful. Her mood slips from optimistic to turbulent and back again. McCartney's voice is close and intimate. And the solo playing of the duduk – an Armenian woodwind – is atmospheric and unexpected.
7. Wings – Jet (1973)
Roaring, cheerful and cheerful, Jet—much like Band on the Run—looks like McCartney has finally found his post-Beatles mojo. It's a great song, her chubby voice a response to cheerfulness; The introduction is, from a distance, the best – and most accurate – of McCartney's attempts to incorporate reggae into his sound.
6. Wings – Live and Let Die (1973)
McCartney's post-Beatles business felt intentionally modest, until the challenge of writing his first rock-and-forth Bond theme forced him to make a major statement. Still at the height of the fireworks peak of its live shows, Live and Let Die adapt Abbey Road's diverse style — ballad, interval reggae, orchestral rock — into thrilling high drama.
5. Paul McCartney – Waterfalls (1980)
McCartney later said he should have carried the Falls—a catalog of parental fears tuned to a slowly sighing tone—back from McCartney II in order to give her the full orchestral treatment, but it's perfect as it is: There's something so poignant about the fragility of her electronic support.
4. Wings – Let Me Roll It (1973)
Her criticism of Lennon's solo methods—cold, caustic turkey guitar, instant slap echo from Karma-ish—led some people to believe Let Me Roll was directed at him; McCartney has hinted that it is an anthem for marijuana. Either way, her stammering spelling and her raw, emotional vocal shift from thought verses to soaring chorus are all incredibly good.
3. Paul and Linda McCartney – The Back Seat of My Car (1971)
There's a moment during last year's Get Back documentary series where Macca hits the back seat of my car, asking the question: Why on earth didn't the Beatles score? Audibly inspired by Brian Wilson, its twists and turns amount to a stunning pyrotechnic display of melodic talent.
2. Wings – Band on the Run (1973)
Shaken by a rebellion among the ranks of the Wings, McCartney defiantly stepped up his game in the band's next on the run. The three-in-one title track reflects both his beleaguered state of mind and his newfound confidence. At 2:06 the mood rises dramatically, with a broad orchestral sound that is something of a surprise that brings joy.
1. Paul McCartney – Maybe I'm Amazed (1970)
Amid the unassuming, charmingly tormented content of McCartney's single appearance of the same name, I may be surprised is a masterpiece that needs no further questions, whether it was a pledge of fidelity to his new wife and the howl of bewilderment at the Beatles' meltdown ("Maybe I'm a lonely man in the middle of something/" He doesn't really understand."). The copy on McCartney is understated – it suddenly fades, as if someone pressed the recording a little late; The arrangement is sparse – but that does nothing to hide her slowly escalating emotional strength, and equal parts pain and adoration. McCartney later called it the song he most wanted us to remember.